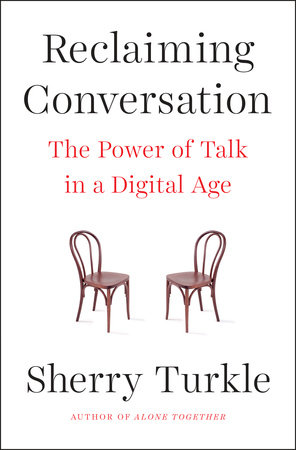 I ordered
Sherry Turkle
's
Reclaiming Conversation: The Power of Talk in a Digital Age
after having read an excerpt in the
New York Times
Sunday Review titled
"Stop Googling. Let's Talk."
—a piece I enjoyed so much that I used it in a class I was teaching the very next week. Her previous book
Alone Together: Why We Expect More from Technology and Less from Each Other (2011)
is a masterpiece that I've referenced repeatedly. Because I needed some nonfiction to take with me during my holiday travels, I didn't page through a copy of the book before deciding to purchase it. I hate to admit that I could have done without reading
Reclaiming Conversation
in full. Nearly all of its main ideas are previewed in the
NYT
excerpt as she sketches out her answers to the question motivating her recent research: "What has happened to face-to-face conversation in a world where so many people say they would rather text than talk?" There she describes two often unacknowledged social conventions that illustrate what she calls "the flight from conversation" (the title of
her earlier New York Times opinion piece from 2012
): the "rule of three" (roughly half of one's group needs to be paying attention to one another, leaving the others to drop out for a while and check their phones) and the "seven minute rule" (the time it takes to for a true conversation to take off, which otherwise will never happen if interruptions cut it short).
But I read every last page of Reclaiming Conversation because of the richness of the examples that Turkle shares from her conversations with people of all walks from life. She analyzes their statements to reveal latent preoccupations and unsaid concerns that are we as a culture should recognize then address. These are the same qualities that made Alone Together so compelling. But Turkle's new book isn't written for me, whereas Alone Together was still quasi-scholarly. Reclaiming Conversation is targeted squarely at parents, educators (mainly K-12), and white-collar professionals. In retrospect, it's easy to appreciate how this book naturally follows her 2012 TED talk (with over three million views) and NYT opinion piece that year. I wouldn't even say that Turkle is tailoring her message to a general audience so much as wanting to facilitate bottom-up change by helping people understand how to address the dissatisfaction they feel as technology has assumed such a prominent role in their lives.
I appreciated in particular Turkle's unapologetic defense of the value of empathy and reflective solitude, both displaced by our technologically mediated interactions. She focuses on interpersonal exchange—or a withdrawal from it in order to converse with oneself—because of her training as a psychologist, no doubt. (At one point in Reclaiming Conversation she explicitly defends talk therapy.) But this is important to hear instead of, say, "reading novels builds empathy." Of course there is messiness in real-time interaction, though we need to experience that to derive value from sustained conversation. And solitude is not as an escape from ourselves but an escape to a space of reflection, a pause before returning to building our relationships.
That way of seeing sets up an unexpected but fascinating discussion of the quantified self. The problem she sees is that devices for personal data tracking provide people with a "number without a narrative": "Numbers are an element in a narrative process, but they are not just an element. When we have a number, it tends to take on special importance even as it leaves to us all the heavy lifting of narrative construction. Yet it constrains that constructions because the story we tell has to justify the number" (93). Hence the importance of conversation: the data is a conversation starter, a means of discussing possible change, not a line to a foregone conclusion that may be recognized by the individual alone. This is especially important, she notes, because algorithms that crunch these numbers are not made transparent to users.
Perhaps one of the reasons why Reclaiming Conversation was harder for me to enjoy was because I thought that Turke had left aside a discussion of artificial intelligence. A study of attitudes toward robotic companions actually occupies a half of Alone Together, the half not addressed in her TED talk.1 I was surprised to find it was the focus of the very last chapter of Reclaiming Conversation, which seems to relegate her question "What do we forget when we talk to machines?" to the status of appendix. I believe it's here where the subject of "treating machines as people; treating people as machines" (to quote a subheading in the chapter) clearly surpasses the matter of conversation. "Nurturance turns out to be a 'killer app.' Once we take care of a digital creature or teach or amuse it, we become attached to it, and then behave 'as if' the creature cares for us in return" (352; italics hers). Not only are our exchanges with artificially intelligent robots not real conversations, but these are fundamentally displaced investments. It would be a real challenge to take up a sustained investigation of this important insight for a general audience, to be sure, and maybe that's where Turkle ought to direct her next project.
See also "Authenticity in the Age of Digital Companions" (2007) in Interaction Studies 8.3 (p. 501-17) and "In Good Company?: On the Threshold of Robotic Companionship" (2010) in Close Engagements with Artificial Companions, edited by Yorick Wilks (Philadelphia: John Benjamins, p. 3-10). ↩