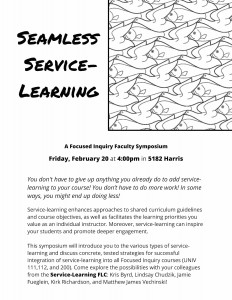 Last week I co-facilitated a
Department of Focused Inquiry
faculty symposium with my colleagues in the Service-Learning FLC. We titled our event "Seamless Service-Learning" and focused on how to make service-learning an integral part of the shared curriculum for UNIV 111, 112, and 200.
The first half of our presentation described the wide range of service-learning options by citing examples from our own courses. Here we emphasized the possibilities for indirect as well as direct service, and compared individual volunteering to project-based service. I described how I place students in groups based on common availability and have them consider all community partners paired with the course before deciding on one. For each partner the groups brainstorm ideas for individual and group service contributions that draw on their talents and meet the partners' needs.
For the second half of the symposium, we discussed practical strategies for integrating service-learning into our courses. We offered suggestions on matters of course design, including adapting Focused Inquiry assignments for service-learning sections, and how to handle logistics. I spoke of the course email address shared by my teaching assistants and me. We have students and partners carbon-copy this address on all correspondence to keep everyone in the loop and to document indirect service in the form of advance planning over email. I also shared the Google Spreadsheets my students use to map out their service across the term and keep track of their hours.
We were happy that the symposium attracted instructors who hadn't yet taught a service-learning course. Hopefully we inspired them to give the possibility more thought in advance of the VCU Service-Learning Institute scheduled for early May.
There was some discussion that the FLC should follow up this event with another that centers on working through particular challenges for different courses in the Focused Inquiry curriculum—something like a course design workshop. (I think this is a great idea! I'll keep you posted.)